School has hoot at mascot launch
15 Oct 2020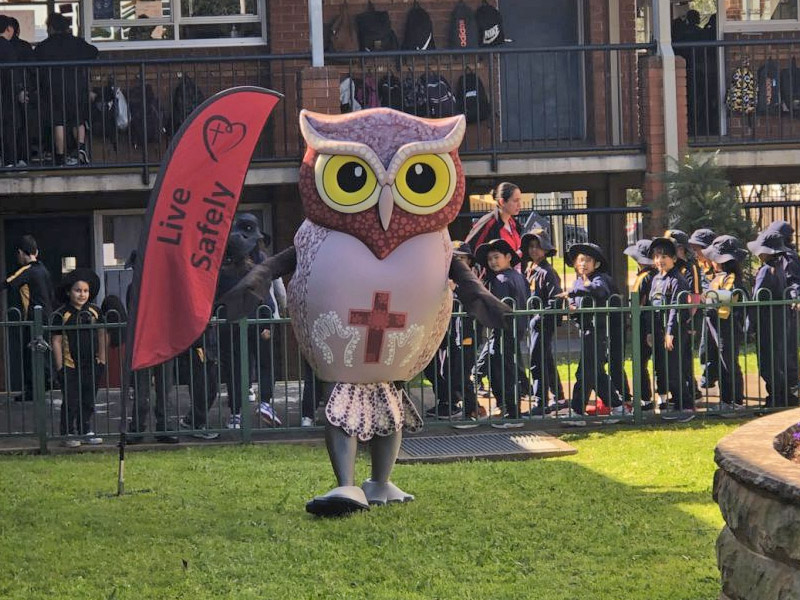 Granville's native fauna inspires students for special launch
Recognising Granville's rich heritage helped motivate Holy Family Primary East Granville in the creation of their new owl mascot 'Bukbuk', as part of an amazing day of activities to launch the school's Positive Behaviour Support for Learning (PBS4L) program.
In designing Bukbuk, the school community consulted with Catholic Education's Jarara Indigenous Education Unit in choosing an owl, native to the area, as their school mascot.
Jarara's Julie Waddell and Joshua Sly attended the launch, leading students through a smoking ceremony and working with students to educate them in Aboriginal culture.
There were also plenty of other exciting activities for students to enjoy and to ensure parents and families wouldn't miss out, the school streamed many of the events online.
"Bukbuk is native to our area and the mascot was designed by students and Joshua Sly from Jarara," said Principal Cheryl Fortini. "Students then engaged in Aboriginal art and sport led by the team from Play On.
They left wearing the owl masks they made after a picnic lunch."
Cheryl was full of praise for how the students engaged with the day's activities.
"Thank you for representing our school and for being the amazing, kind, caring and innovative individuals that you are, each and everyone of you makes Holy Family what it is," she said.
The day left the students with plenty of enduring positive memories and lessons about the importance of positive behaviour in their education and environment.
It also reinforces the school's key mantra of 'Live Safely, Love Respectfully, Learn Daily'.
View photos from the mascot launch
Find out more about Holy Family Primary East Granville
Facebook
30 Nov 2022

Congratulations to our super star students of the week showing great achievements last week!