How we teach reading (and how you can help)
29 Aug 2014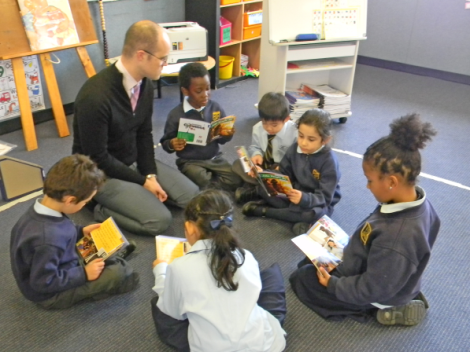 Ben Munday with students reading at Holy Family Primary
Do you remember learning to drive? Even if you've never learned, you can probably imagine the process.
At first, there is SO much to remember and it can seem overwhelming. When you try to focus on getting the clutch right, you forget about putting on your indicator. Just when you feel you've got the hang of second gear, your teacher says "Now shift into third".

If you had professional lessons, your instructor's car had a second set of pedals on their side of the car. This way, they could share some of the control just in case you were about to drive them into a wall.

So what does all this have to do with reading?

Good readers are like good drivers. We use many, many different skills and processes all at the same time without even noticing. And just like you learn to change gears and steer so you can use the car to get somewhere, when we read we use all the different skills for a higher purpose – to make meaning from written words. In other words, to understand, or comprehend what we read. 'Getting all the words right' is less important than understanding what we read.

Just like driving teachers, school teachers use a 'gradual release of responsibility' model when teaching reading.
In Modelled Reading, the teacher is in control.
In Shared Reading, the teacher leads and the children join in.
In Guided Reading, the children lead and the teacher joins in if necessary.
In Independent Reading, the child leads and is in control.
If you want to give your child a boost in reading, there are some simple things you can do:
Read to your children every day in any language – even five minutes is a good start
Talk about what you have read
Talk about movies and games and compare them to stories you know
Listen to your children read their home readers to you
Have books available for your children to read for pleasure
Take your children to the library to borrow books, magazines, books on CDs, anything!
Teach your children to read a menu, a shopping list, a catalogue, a bus timetable, anything!
Above all, have fun reading together!
Mr Benjamin Munday
Assistant Principal
Holy Family East Granville
Facebook
30 Nov 2022

Congratulations to our super star students of the week showing great achievements last week!