As part of the school wide wellbeing focus, Holy Family Primary School strives to build a warm, connected, safe and cooperative learning environment guided by the Positive Behaviour Support For Learning (PBS4L) framework.
The school has established its core values of Love Respectfully, Learn Daily and Live Safely and these values are at the centre of our behavioural expectations.
PBS4L is an evidence based framework that is founded on eight essential features that must be present school wide for effective and positive implementation. These include having:
A common purpose & approach to discipline
Leadership support and guidance of PBS4L within the school
Clear behaviour expectations
Behaviour expectations that are explicitly taught
Positive behaviours that are acknowledged
Incorrect behaviours re-taught with logical consequences as needed
Monitoring of behaviour through data collection & analysis to guide interventions
Effective classroom practices incorporated in the professional development of all staff
The purpose of PBS4L is to develop effective school-wide systems and practices that are informed by data to get more positive outcomes for students both socially and academically. The fundamental principle behind PBS4L is that behaviour is learnt and therefore can be taught.
It is important to understand that PBS4L is a universal framework that is relevant for everyone within the school. It is not just for students with additional needs, though these students will likely need higher levels of support within the framework.
PBS4L is a transparent framework that encourages parent, student and teacher voice. It is a collaborative community effort aimed at encouraging more positive social and learning behaviours within our school community to maximise student wellbeing and learning outcomes.
Holy Family's PBS4L behaviour expectations matrix for our school is below: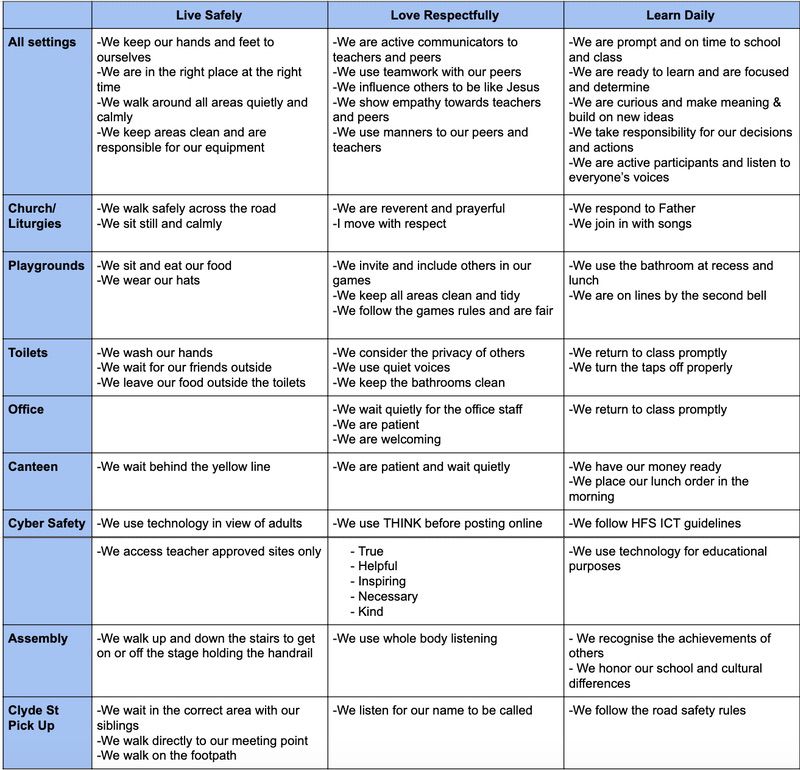 ---
Recognising Positive Behaviour
At Holy Family, we recognise positive student behaviours in a number of ways. This includes the explicit verbal praise of students, using non verbal cues (e.g., thumbs up, smiles, nods) and giving out school tokens when we observe the behaviours stated in the relevant matrix above. Students work collaboratively in their classroom towards a whole class reward, that often reflects the learning for the term. The tokens achieved in the classroom go towards achieving a whole school reward. These rewards can include extra play time, a whole school sports afternoon or a disco.
---
Discouraging Negative Behaviour
Just as we aim to re-teach student academic errors, we also aim to re-teach incorrect or problem behaviours. When a correction is being made by a teacher, the correction should be calm, consistent, brief, immediate and respectful. If a prompt, redirect, re-teach, the provision of a fixed choice or a student conference has not been successful in addressing the problem behaviour, the teacher may provide a logical consequence designed to help the student re-learn the more appropriate behaviour. For example, if a student was misbehaving to avoid classwork, a logical consequence might be to stay in briefly at recess/lunch to complete the missed work. Another example might be that if a student is constantly off task during small group work, the student may be given the fixed choice to either stay on task with the group or complete the task as an individual. If the student corrects their behaviour, they can stay working with the group. However, if their behaviour remains problematic, the teacher will make the choice and provide the logical consequence (i.e. working on the task individually).
Any behaviour that is considered Major (deliberate actions that are persistent or offensive/dangerous to the physical and/or emotional wellbeing of self/others) will have fewer steps and have Leadership involvement due to the serious nature.
Below is a summary of the decision making flowchart around behaviour concerns.