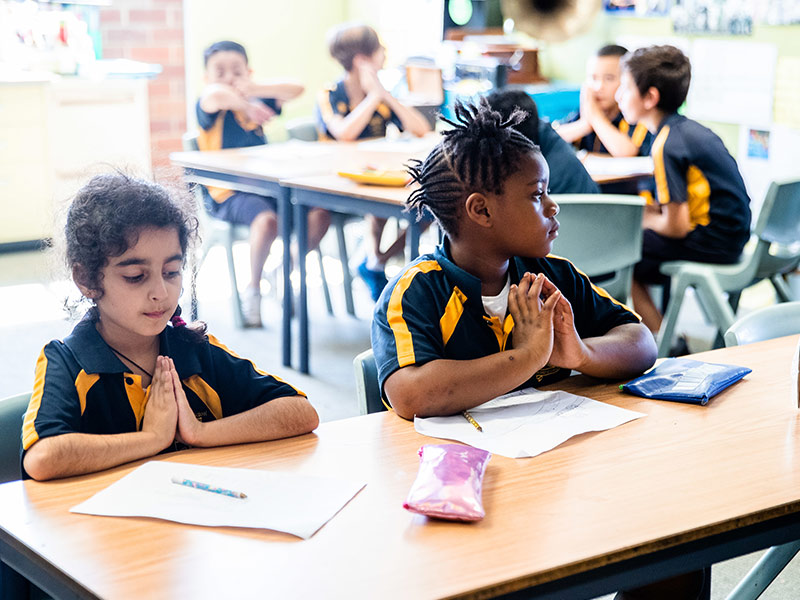 Religious Education
We recognise and honour families as the 'first and foremost educators' of their children in terms of faith development.
Students engage in study across a range of areas about faith, life, God, scripture, and social justice and outreach, through the formal diocesan Religious Education program.
At Holy Family Primary School the Sacraments of Reconciliation, First Holy Communion and Confirmation are parish-based sacraments which are supported by units of work in class.
Students participate in class prayer daily and school Masses and liturgies throughout the year.
The Holy Family Primary School community puts values into action, supporting a variety of social justice initiatives and missionary works, such as Caritas' Project Compassion, Catholic Mission, the House of Welcome and the St Vincent De Paul Society.
Penance and First Holy Communion Expression of Interest Form
---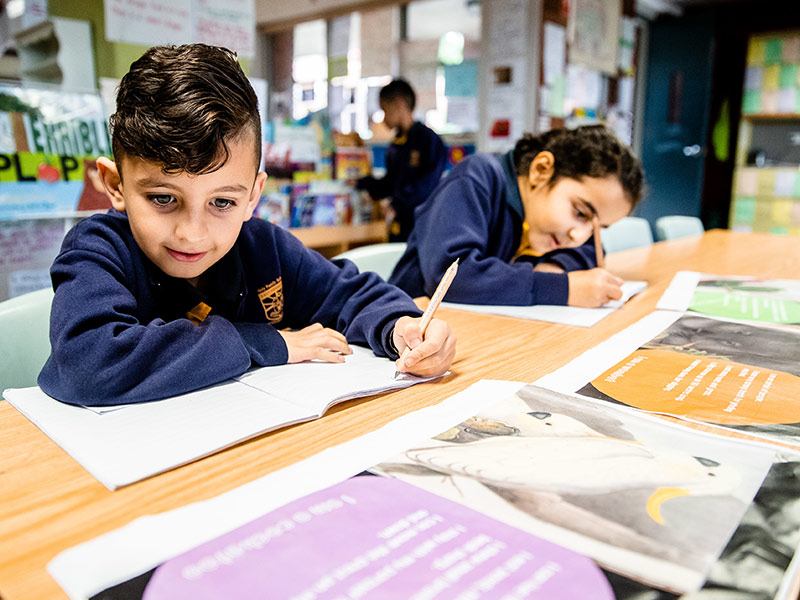 English
We understand that reading, writing, speaking and listening form the basis of learning in all aspects of schooling.
Our mantra 'embody, speak, write' reflects our understanding that learning through the body scaffolds the development of rich language and enables students and teachers to extend vocabulary and language structures far beyond conventional pedagogy. Teachers are trained to use Drama Literacy techniques to build language and comprehension.
Daily literacy blocks reflect an up-to-date understanding of how children develop literacy at different developmental stages, while literacy skills are developed all day, every day, in every Key Learning Area, through cross-curricular learning. They are developed in whole class, small group, pair and individual experiences.We use the NSW English K-10 Syllabus mandated for all NSW schools by the NSW Education Standards Authority (NESA).
---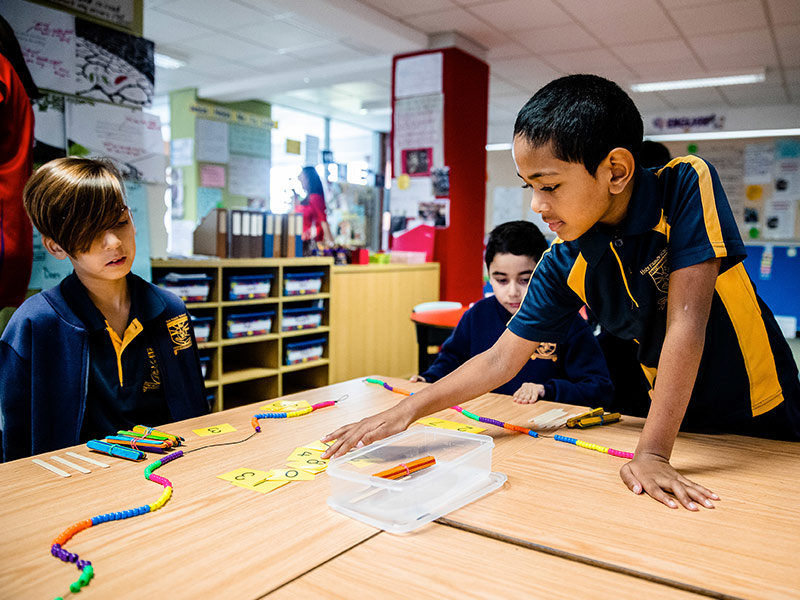 Mathematics
At Holy Family Primary School, students investigate, explore and manipulate both concrete materials and abstract ideas through open-ended tasks. The process of their learning is expressed orally, pictorially and symbolically. Reflective practice plays a significant part in all the school's curriculum areas. In Mathematics the children articulate their thinking and reasoning, enabling deeper conceptual understandings.
Mathematics at Holy Family is based on the Extending Mathematical Understanding (EMU) program linked to the 2015 NSW Mathematics K-10 Syllabus mandated for all NSW schools by NESA. Through reflection, empowerment and learning, the emphasis is on mental computations, open-ended tasks, problem solving and investigations. This challenges our children to become lifelong learners in Mathematics.
Students from Years 1-6 complete a Mathematical Assessment Interview (MAI) or, for Kindergarten, a Best Start Assessment at the beginning of each year to give teachers a starting point for each child's level of understanding and 'where to' next.
---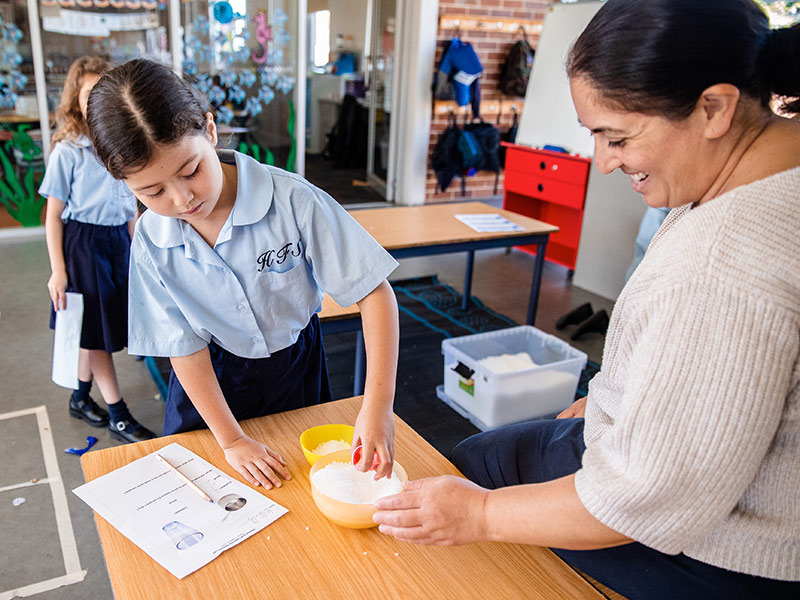 Human Society and Its Environment (HSIE) and Science
At Holy Family Primary School learning in HSIE and Science is typically part of an 'integrated' unit, drawing in content and skills from multiple KLAs such as the Creative Arts, English and Mathematics. These units build students' learning dispositions by working towards solutions to a Driving Question. This process can include researching solutions to mini-driving questions, explicit teaching, scaffolded research tasks, experiments, historical inquiry, and incursions and excursions.
Learning in HSIE and Science is linked to the NSW History K–10 Syllabus, NSW Geography K–10 Syllabus and NSW Science K–10 (incorporating Science and Technology K–6) Syllabus mandated for all NSW schools by NESA.
---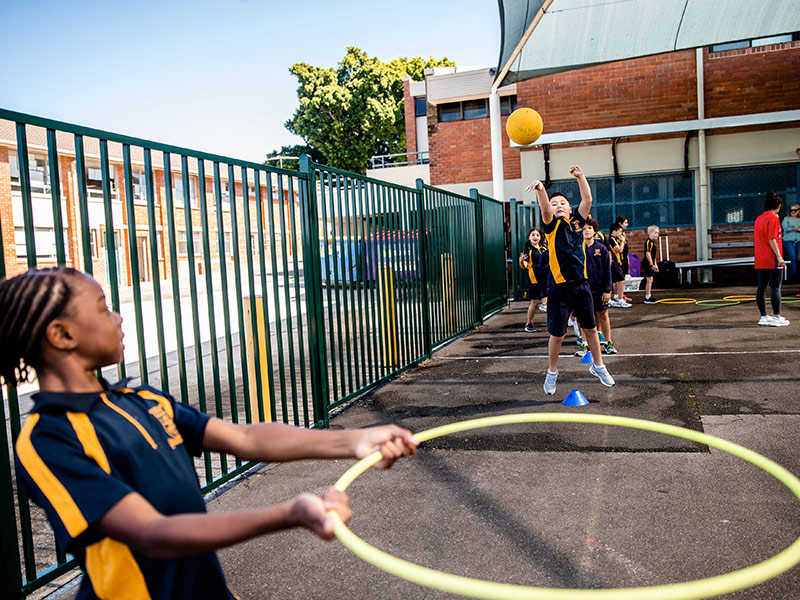 Personal Development, Health and Physical Education (PDHPE)
The aim of teaching Personal Development, Health and Physical Education at Holy Family Primary School is to develop in each student the knowledge and understanding, skills, and values and attitudes needed to lead healthy, active and fulfilling lives.
Students participate in weekly PE lessons that focus on individual and group games and sports, and movement and skill development. At different times of the year students take part in gymnastics and swimming programs with qualified instructors.
A weekly Persona Development and Health lesson encourages an understanding and valuing of self and others, and emphasises informed decision-making, leading to effective and responsible action. Students learn about such topics as medicines, road safety and how they grow and change. All lessons are aligned with the school's Catholic values.
Learning in PDHPE is linked to the NSW PDHPE K-6 Syllabus mandated for all NSW schools by NESA.
---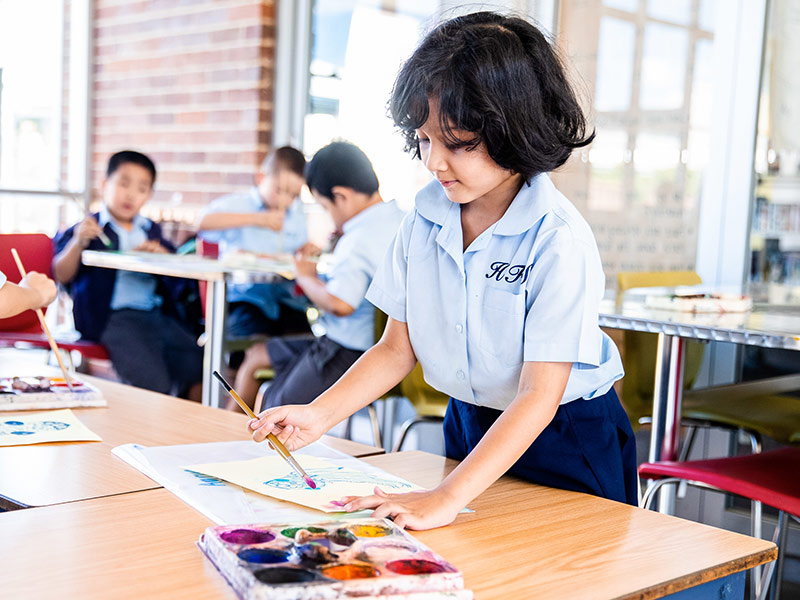 Creative Arts
At Holy Family Primary School learning in Creative Arts is typically part of an 'integrated' unit or inspired by the class' Driving Question. Important skills and concepts are explicitly taught and practised in Music, Visual Art, Drama and Dance.
Development in Music is supported at Holy Family Primary School through the Captivate Concert Band program in Years 4 and 5. All students in these grades work with a specialist music teacher to learn a concert band instrument, and students in Year 6 continue to be extended through ensemble work.
Learning in Creative Arts in linked to the NSW Creative Arts K-6 Syllabus mandated for all NSW schools by NESA.