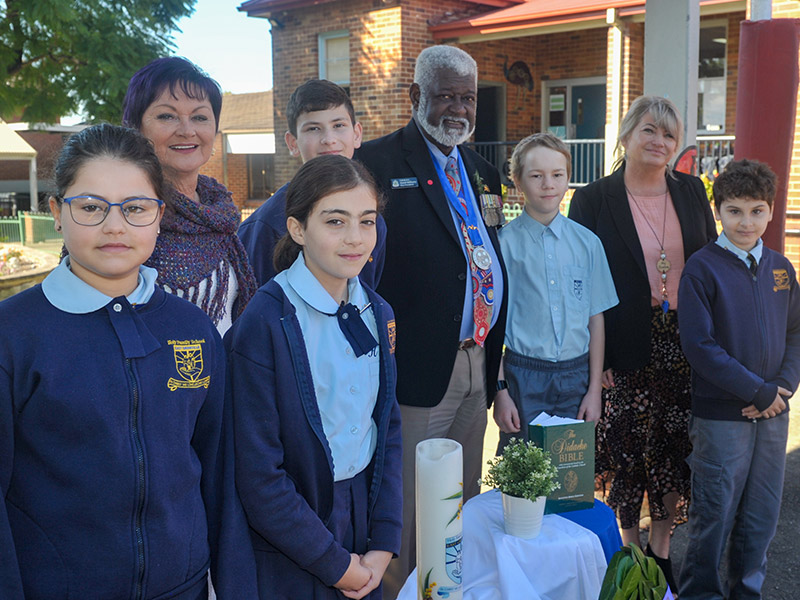 Uncle David Williams (centre) with Principal Cheryl Fortuni (back row left), Religious Education Coordinator Jodie Donlan (back row right) and students after Mr Williams gave a powerful speech at the Holy Family Primary East Granville's Anzac ceremony.
Aboriginal war veteran Uncle David Williams took part in a moving ANZAC ceremony at Holy Family Primary East Granville, delivering a powerful message to students about Anzac mateship and the important role indigenous people played serving our country at war.
"Australia has the greatest weapon in the world. You put your right hand out and say 'gday mate'."
It was one of the simple yet powerful messages Aboriginal war veteran Uncle David Williams was keen to convey to school students at Holy Family Primary East Granville when he visited the school for a special Anzac Day ceremony.
The ceremony was held on Monday to give students, staff and parents the opportunity to come together as a community and give thanks to those who made the supreme sacrifice in times of war and conflict.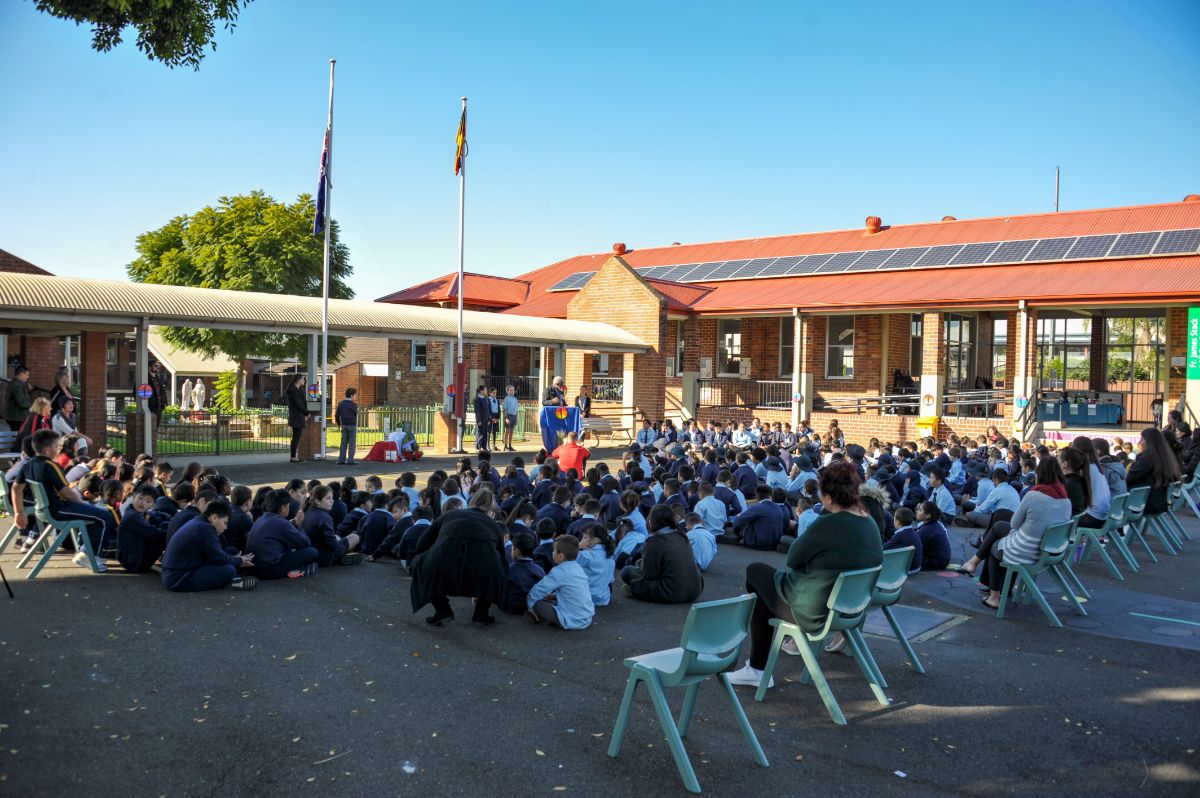 Parents joined students and staff for the solemn Anzac service.
As the guest speaker, Uncle Dave was invited to give some insight to students about the hardships he faced and lessons he learnt throughout his life. He recounted stories about the Anzac battle at Gallipoli and how 29 members of his family have fought for Australia going back to The Lighthorse Brigade.
"Here in Australia, we have the greatest weapon in the world," he said. "You put your right hand out and say 'gday mate'. That creates dialogue so when you're talking, you're not fighting. You're understanding. The world is getting a lot more complicated and harder to defend so it starts with you young people. You must start it here in the schoolyard by talking and listening to each other."
Mr Williams is from the Bundjalung tribe near Grafton in Northern New South Wales. He is a retired naval submariner and retired chief petty officer in the Royal Australian Navy. His 30-year career in the military included deployments to Malaya, Indonesia, the Malacca Straits, Borneo and the Vietnam War. He was impressed by the sincerity of the ceremony and respect shown to him by all those in attendance.
"The attention, respect and focus they displayed today is wonderful," he said of the students. "It's up to young people. If you want a good country, it's important that we all support each other. We don't have enough support for our young people today."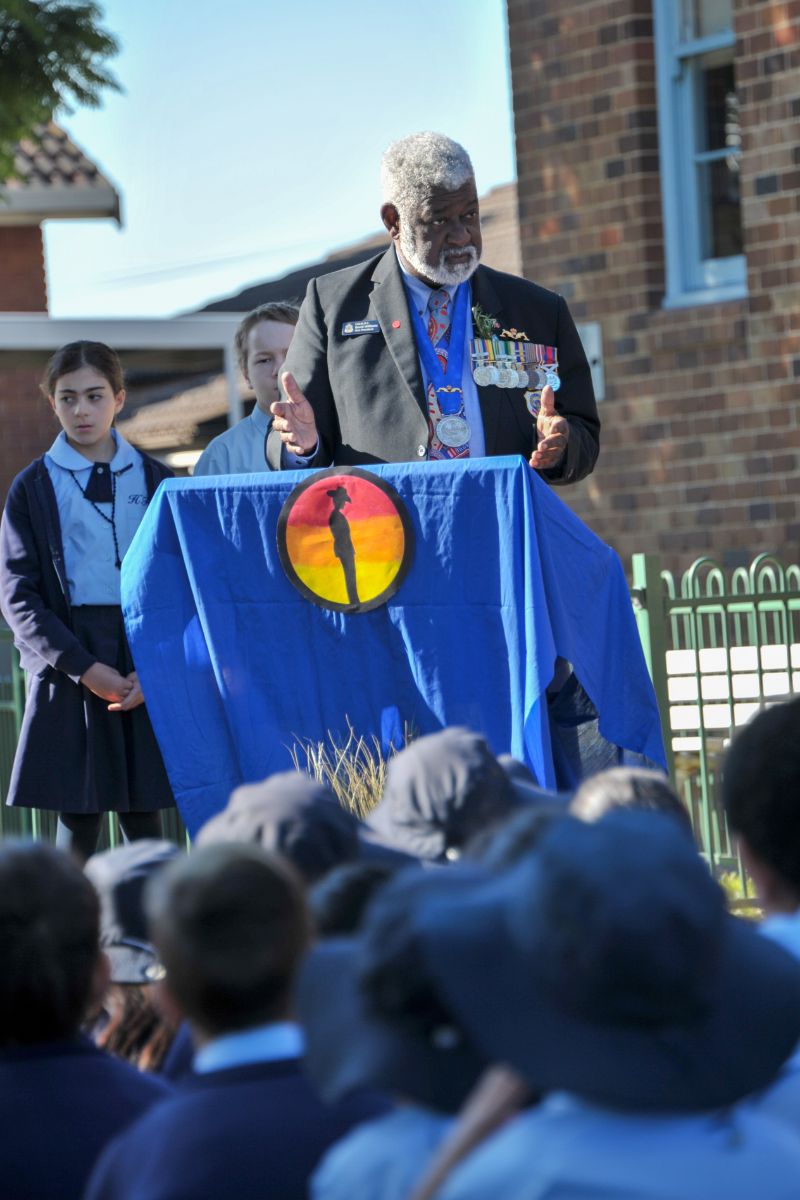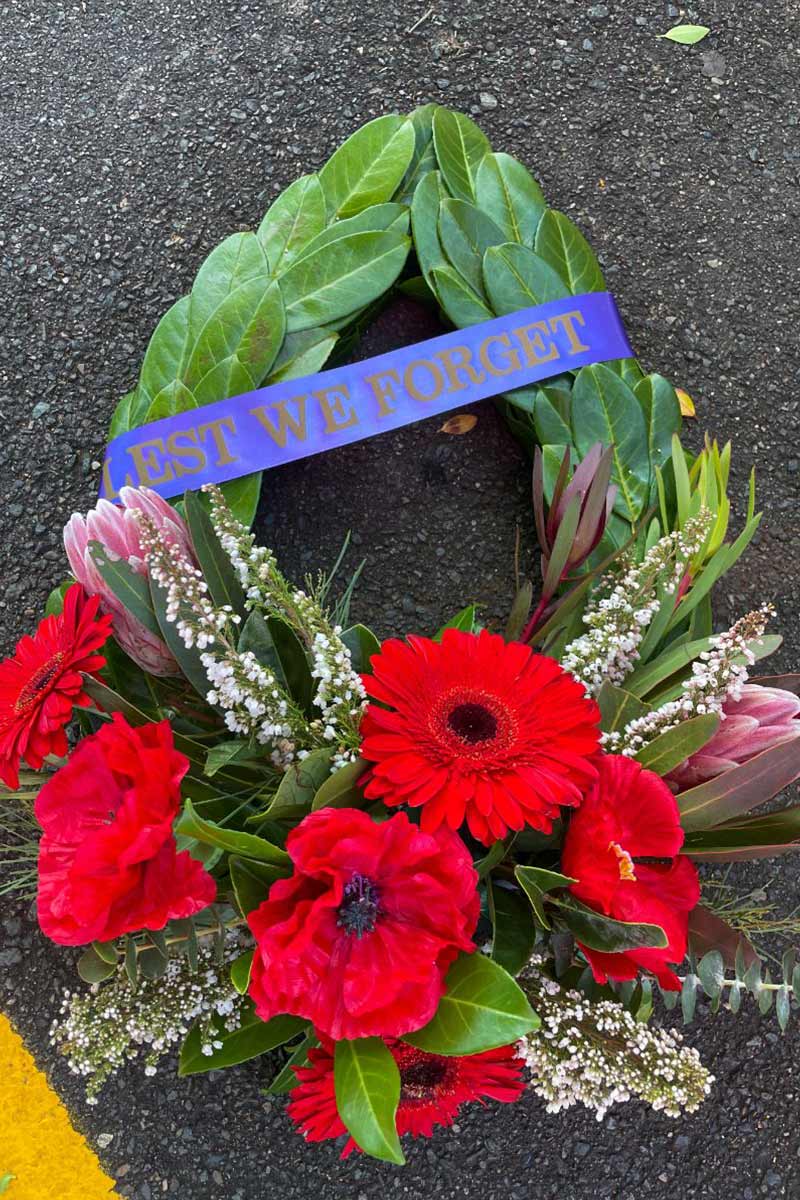 In his speech, Uncle Dave reminded students how the Anzac story is one that unites all Australians, regardless of their background. Speaking with National Indigenous Television (NITV) at the school, Uncle Dave spoke about the importance of recognising the contribution of Aboriginal and Torres Strait Islander people to the Australian Defence Force.
"It's the first time we've had the Aboriginal and Thursday Island flags at the head of the march," he told NITV. "To be in that with my mate was pretty special."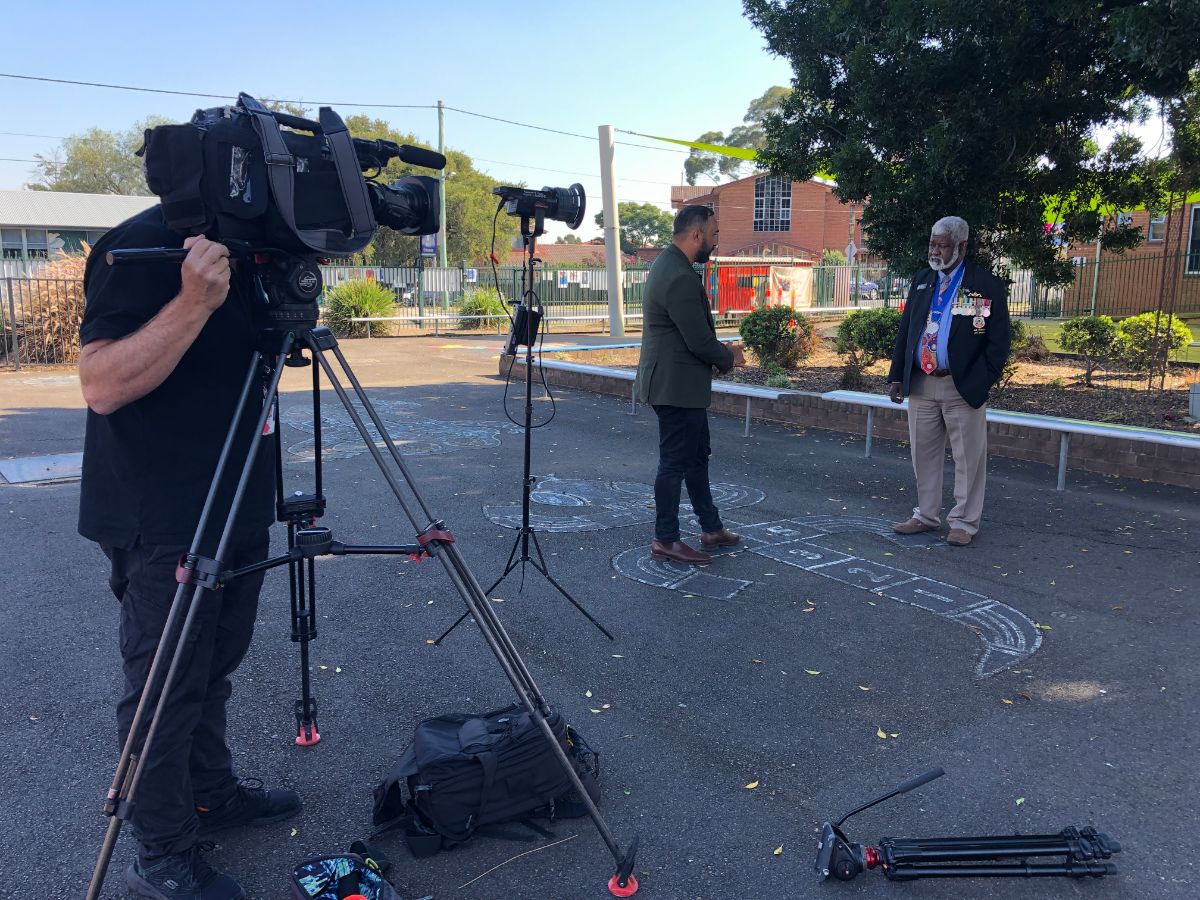 ---
View and download all photos from this event